Webinaire: Get Investor Ready.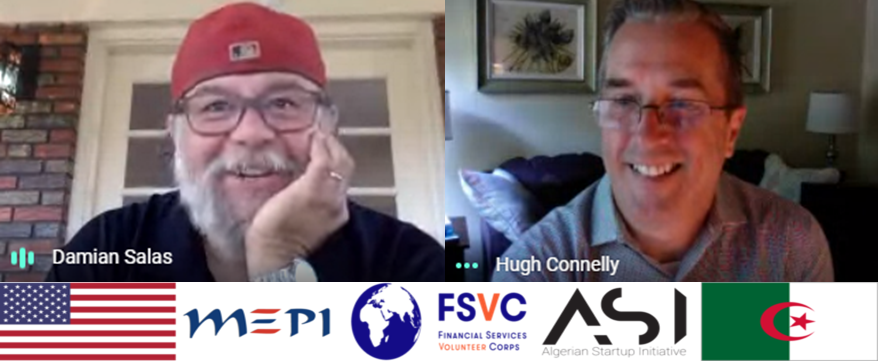 Get investor ready sessions
Dans le cadre du programme DjazairUP, des séances individuelles à distance avec deux experts américains en finance et en stratégie d'ouverture de capital ont été organisé durant ce mois de juin,  dans le but d'aider et assister les startups enregistrées au programme sur les pas d'ouverture de capital et les notions à connaître pour attirer et séduire un investisseur.
"Damian Salas" et "Hugh Connelly", deux experts volontaires FSVC qui ont apporté leurs aides et honoré de leurs participations à des webinaires en ligne, et ce malgré les rudes circonstances liées à la situation sanitaire mondiale dûe au Covid-19. Ils ont réalisé des séances de travail distancielles avec des startups de différents domaines, avec qui ils ont partagé de nombreux conseils et recommandations sur diverses expériences vécues pouvant aider les startups algériennes à mieux se préparer à la conquête des investisseurs et obtenir des levées de fonds, cette étape si cruciale à la survie d'une entreprise innovante. 
Get investor ready sessions
As part of the DjazairUP program, individual remote sessions with two American experts in finance and capital opening strategy were organized during this month of June, in order to help and assist the enrolled startups in the DjazairUP program on steps of opening of capital and the concepts to know to attract and seduce an investor.
"Damian Salas" and "Hugh Connelly", two FSVC volunteer experts helped and honored their participation in online webinars, despite the harsh circumstances related to the global health situation due to Covid-19. They carried out distance working sessions with startups in different fields, with whom they shared many tips and recommendations on various real experiences that can help Algerian startups to better prepare for the conquest of investors and obtain fundraisers, this step so crucial to the survival of an innovative company.